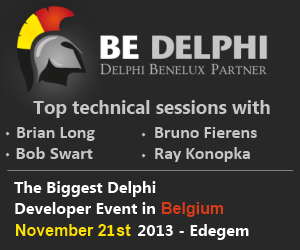 We're pleased to announce TMS software is platinum sponsor of the upcoming Be-Delphi conference on November 21 in Antwerpen, Belgium and the Delphi Developer Days on December 4,5 in London, UK.
The Be-Delphi conference in Antwerpen has its third edition this year with an impressive roster of speakers and ditto technical content. From Embarcadero, Marco Cantu will be present to introduce the new Delphi XE5, from USA, Ray Konopka from Raize software has an in depth session about generics. Delphi gurus from day 1, Brian Long, Jeroen Pluimers and Bob Swart are present as well. Brian Long talks about developing for Android, Jeroen Pluimers about the MVVM pattern in Delphi and Bob Swart about (dis)connected mobile datasnap.

But there is more, Mathias Dellaert talks about TVirtualInterface / TVirtualMethodInterceptor, Detlef Overbeek from the Blaise Pascal magazine talks about Leap Motion and we have Anton Vogelaar giving a session about Delphi for industrial control.
The TMS software team will be present with a booth and Bruno Fierens gives a session on consuming GEO services from Delphi.
As you can see, Be-Delphi 3.0 will be again a top technical conference packed with interesting talks and exciting subjects. The TMS software team looks forward to meet you there!
Shortly after, on December 4 and 5, Carry Jensen and Bob Swart bring the Delphi Developer Days and an extra day on December 6 devoted to a Delphi Mobile development workshop. No new technical subject is left untouched on the Delphi Developer Days. FireMonkey, FireDac, Gestures and touch, debugging, Datasnap, XML, JSON, threads, Android, iOS, …
If you want to update yourself to the latest knowledge about Delphi, don't hesitate to register for the Delphi Developers Days as places are strictly limited!